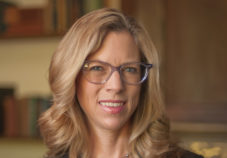 Project focus: Michelle will investigate science-related misinformation in social and online media and how audiences interact with it, as well as develop and test potential interventions.
About Michelle
Michelle A. Amazeen is Director of the Communication Research Center and an associate professor in the Department of Mass Communication, Advertising and Public Relations at Boston University. Amazeen's research program examines mediated persuasion and misinformation, exploring the nature and persuasive effects of misinformation and efforts to correct it. She employs a variety of qualitative and quantitative methods to yield results with practical applications for journalists, educators, policymakers, and consumers who strive to foster recognition of and resistance to persuasion and misinformation in media.
Her work has been previously funded by the American Press Institute and the New America Foundation and has appeared in academic publications such as Communication Monographs; Digital Journalism; Journalism; Journalism & Mass Communication Quarterly; Media, Culture & Society; and New Media & Society. She is among the team of 22 prominent scholars from around the globe with expertise in misinformation and its debunking who contributed to The Debunking Handbook 2020—a consensus document summarizing the science of debunking for engaged citizens, policymakers, journalists, and other practitioners. She is also a contributor to "The COVID-19 Vaccine Communication Handbook," a practical guide to help fight the spread of misinformation about the COVID-19 vaccines.