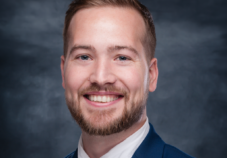 Andrew George
Title
Sigma Xi Civic Science Fellow
Project focus: Andrew will develop a digital platform for fostering effective, sustainable collaborations between scientists and policymakers to address the needs of communities, initially within the state of North Carolina.
About Andrew
Andrew George wants to advance his goal for everyone to have the opportunity to be extraordinary through innovative thinking, creative solutions, and putting people first. Across his career, he has built relationships between Federal agencies, State legislators, students, academic institutions, non-profits, and others to bring about change. As a graduate student, he co-led the development of the North Carolina STEM Policy Fellowship and worked with leadership in his department to standardize pay for graduate students. Andrew previously served as an AAAS Emerging Leaders in Science and Society Fellow, where he engaged stakeholders, practitioners, and users to understand their needs for clean affordable drinking water in North Carolina. Prior to serving as a Civic Science Fellow, Andrew worked as a Senior Consultant and recently as the Executive Vice President for Strategy at Thrivner, Inc. At Thrivner, he worked with leaders looking to make a difference and develop bold initiatives to tackle a range of societal challenges. These included adapting to climate change, creating a sustainable ocean economy, and building resilient communities. In January 2023, Andrew joined the North Carolina Biotechnology Center to design and lead a new Life Sciences Manufacturing Ambassador program. Andrew holds a Ph.D. in Biology from Duke University and a B.S. in Zoology from Michigan State University.
1. What was the focus of your work as a Civic Science Fellow? What did you do?
My work focused on developing a digital platform for fostering effective, sustainable collaborations between scientists and policymakers in North Carolina. Through user interviews with policymakers and scientists, I developed a platform that helped scientists understand how to engage with the state-level policy process and find opportunities for them to engage.
2. How do you hope your work as a Fellow will influence the future—for yourself, an organization, a community, or a field?
I would like to see this platform grow within North Carolina to help create connections between researchers and organizations working at the intersection of science and society. I'd also like it to serve as a template for replication in other states and be modified to allow for engagement at the local level.
3. What's one insight you'd share from your work as a Civic Science Fellow?
Be open to letting the communities and individuals you want to work with guide the development and direction of the project. Avoid the temptation to stick to the original project description or plan in the face of uncertainty about how to pivot toward a different or more helpful outcome for the community you are working with.