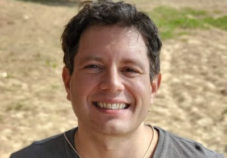 Eric A. Jensen
Title
The Brinson Foundation Civic Science Fellow
Project focus: At the National Center for Supercomputing Applications (NCSA), Eric is putting "evidence-based science communication" into practice with his multidisciplinary team at the Advanced Visualization Lab. The project is using audience research to inform design choices for cinematic-style scientific visualizations to boost their impact for public audiences.
About Eric
Eric A. Jensen is a Civic Science Fellow at the National Center for Supercomputing Applications (NCSA), University of Illinois. Specializing in evidence-based science communication (sciencecomm.science), Eric has 20 years' of experience in science communication research, evaluation, and practice. He has worked as a consultant and trainer for many research institutions, including the University of Cambridge, the University of Oxford, the National Gallery, the Natural History Museum, the London Zoo, the Science Museum Group, the European Space Agency, CERN, Science Foundation Ireland, Australian Research Data Commons, National Research Foundation (SAASTA), and UNESCO. His recent research has focused on socially responsible science, science festival and public engagement event evaluation, diversity of science communication audiences, and the long-term impact of public engagement and informal learning activities. Eric's most recently published books are Science Communication: An Introduction (World Scientific) and Doing Real Research: A Practical Guide to Social Research (SAGE). His training courses are featured at methodsforchange.org. His Ph.D. in sociology is from the University of Cambridge.
RESOURCES ABOUT EVIDENCE-BASED SCIENCE COMMUNICATION:
HTTPS://SCIENCECOMM.SCIENCE/
"INTRODUCING CINEMATIC SCIENTIFIC VISUALIZATION: A NEW FRONTIER IN SCIENCE COMMUNICATION" (LSE IMPACT BLOG):
HTTPS://BLOGS.LSE.AC.UK/IMPACTOFSOCIALSCIENCES/2022/03/16/INTRODUCING-CINEMATIC-SCIENTIFIC-VISUALIZATION-A-NEW-FRONTIER-IN-SCIENCE-COMMUNICATION/
"A NEW FRONTIER IN SCIENCE COMMUNICATION? WHAT WE KNOW ABOUT HOW PUBLIC AUDIENCES RESPOND TO CINEMATIC SCIENTIFIC VISUALIZATION"—ARTICLE IN FRONTIERS IN COMMUNICATION:
HTTPS://WWW.FRONTIERSIN.ORG/ ARTICLES/10.3389/FCOMM.2022.840631/FULL
SCIENCE COMMUNICATION: AN INTRODUCTION. EDITED VOLUME: HTTPS://WWW.WORLDSCIENTIFIC.COM/WORLDSCIBOOKS/10.1142/11541#T=ABOUTBOOK
TWITTER: @JENSENWARWICK
1. What was the focus of your work as a Civic Science Fellow? What did you do?
My Civic Science Fellow project presents a real-world demonstration of the evidence-based science communication process, showing how it can be used to create scientific data visualizations for public audiences. As with many forms of science communication, creators of such data visualizations typically rely on their own judgments or the views of the scientists providing the data to inform their science communication decision-making. Here, we show the practical steps that our team—the Advanced Visualization Lab at the University of Illinois at Urbana-Champaign—has taken to shift towards more evidence-based practice to enhance our science communication impact. We did this by using quantitative and qualitative audience research to inform our strategies and designs for space science–themed data visualizations (focusing on a new black hole visualization). We have also published the knowledge we gained along the way about "what works and why" with cinematic-style data visualizations for the public.
2. How do you hope your work as a Fellow will influence the future—for yourself, an organization, a community, or a field?
It is increasingly recognized that science communication practice (a key dimension of civic science) should be evidence-based. In a paper published the year before starting the fellowship (Jensen & Gerber 2020), I argued for changes in science communication norms and practices, including adapting engagement approaches to audience needs, proactively ensuring the inclusion of marginalized groups, and continually refining practices using insights from robust evaluations and audience research (also see Jensen & Dawson, 2011). This paper outlining an agenda for evidence-based science communication has been widely viewed and cited (approx. 40,000 views and 50+ citations as of early 2023). Yet, we are lacking concrete examples of what evidence-based science communication looks like as a process. This Civic Science Fellow project demonstrates how the Advanced Visualization Lab has implemented evidence-based science communication in the visualization of scientific data for public audiences, offering a roadmap for applying a scientific approach to science communication.
3. What's one insight you'd share from your work as a Civic Science Fellow?
Taking an evidence-based approach means making communication or visualization design choices not because they are the norm, or because that's what the designers personally like or prefer to do. Instead, the audience's needs should be the driving force behind communication choices and visualization design. Don't assume that what you—or the people you know—like is going to be the right choice for other people, who have different backgrounds, interests, and needs than your social or professional groups. Don't rely on the opinions of subject-matter experts who have long since forgotten what it was like to encounter a totally unfamiliar scientific topic or who never felt culturally alienated from science. Base your communication choices on evidence about what your target audience cares about, and what makes sense to them.