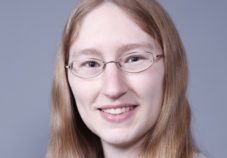 Claire Weichselbaum
Title
Dana Foundation Barbara Gill Civic Science Fellow
Project focus: Claire will focus on public engagement in the ethics of emerging research and development in neuroscience at the National Informal STEM Education (NISE) Network, working with collaborators to develop pilot engagement, directions for the future, and pathways to policymaker engagement.
About Claire
Claire Weichselbaum serves as the Dana Foundation Barbara Gill Civic Science Fellow at the National Informal STEM Education Network, based at Arizona State University. She is a scientist and science educator with over 10 years of experience creating, implementing, and evaluating STEM programs and learning materials. Claire was a postbaccalaureate fellow at the National Institutes of Health and holds a Ph.D. in Neuroscience from Washington University in St. Louis. Her academic research focused on the neural basis of social development in young children and animal models. During graduate school, she co-founded a science outreach program called Brain Discovery, bringing inquiry based neuroscience experiences to more than 1500 young students. Claire has developed curricula for preschoolers through graduate students and served organizations including Northwestern University's Center for Talent Development, the St. Louis Science Center, and Encyclopedia Britannica. She is committed to educating, inspiring, and empowering people of all ages and backgrounds to be active participants in the future of science.

THE NEUROETHICS ENGAGEMENT TOOLS DEVELOPED DURING MY FELLOWSHIP WILL BE MADE AVAILABLE HERE—
WWW.NISENET.ORG/BRAIN
1. What was the focus of your work as a Civic Science Fellow? What did you do?
During my fellowship, I developed public engagement tools to encourage reflection and dialogue about the ethical and societal implications of neuroscience research and neurotechnology, with input from scientists, ethicists, educators, and policy experts. Although these engagement experiences were piloted and evaluated in science museums, I'm excited by their potential for use in a wide variety of other contexts to create opportunities for multidirectional learning among diverse stakeholders and communities.
2. How do you hope your work as a Fellow will influence the future—for yourself, an organization, a community, or a field?
The development of these neuroethics engagement activities is just the beginning! In addition to applying these tools in other settings, from professional meetings to graduate ethics trainings to K–12 classrooms, I hope this approach can serve as a model for bringing together many perspectives on the societal impacts of scientific research. Personally, this fellowship has provided an incredible opportunity to work with others who are passionate about civic science, and I hope to continue learning and growing with all of you in the future.
3. What's one insight you'd share from your work as a Civic Science Fellow?
Everyone has something to contribute to science—you don't have to be an expert to share your values, your lived experience, your fears and hopes for the future. Too often scientists believe that the general public can only participate in these conversations if they're given extensive background information. But my neuroethics engagement work has shown that people are able and eager to discuss complex issues when provided with accessible, engaging opportunities to make their voices heard.