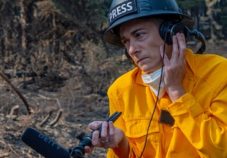 Melanie Brown
Title
UK-US Civic Science Storytelling Fellow
Project focus: Melanie will pursue her own reporting on civic science for a variety of media outlets whilst also working with colleagues to consider best practice models of conducting civic science journalism. Melanie will help to establish a teaching framework that can be used for both university students and professional journalists to tell civic science stories. Melanie will also be undertaking research into the science media habits of Latinx communities.
About Melanie
Melanie Brown is an award-winning multimedia journalist who will serve as the Civic Science Storytelling Fellow based at the University of Oregon's Center for Science Communication Research. Melanie has spent the past decade working for the BBC in factual programming with a focus on making science documentaries for the BBC World Service. She is passionate about telling complex science stories in ways that are accessible to a broad audience and foster engagement with the most pressing scientific, environmental, and health issues. Some of her past stories have covered: brain-computer interfaces, China's scientific development and its implications for geopolitics, wildfires, AI in warfare, underwater noise pollution, memory loss, the future of toilets, and gene editing.  Before retraining as a journalist, Melanie worked in international development in communications and fundraising roles. She cut her teeth meeting communities in rural Afghanistan and sharing their stories to increase awareness around the challenges they faced. This experience helped her foster a people-centered storytelling approach to convey nuanced understandings of development projects in complicated settings.  Melanie holds an M.A. and NCTJ in Multimedia Journalism and a B.A. in International Relations from the University of Sussex. Outside of work, Melanie enjoys getting into nature, whether that's her garden or the great outdoors. She's often found with a camera poised at some tiny natural wonder, and she is learning to wood carve and kayak; she doesn't like dill.
1. What was the focus of your work as a Civic Science Fellow? What did you do?
My work is focused on considering how science journalism and storytelling can contribute to enhancing the practice and aspirations of civic science. I am doing this by:
Developing a curriculum and teaching a course on civic science storytelling to science and journalism students
Reporting on civic science issues here in Oregon (focusing principally on climate change and wildfire)
Conducting research to understand Oregon's Latinx population; gathering an understanding of views about science/media habits with an eye to developing science documentaries responding to these insights.
Building alliances and networks of science practitioners, journalists, academic staff, and communities.
Considering how to embed science and storytelling skills in communities involved in citizen science work.
Offering media training to peers and civic science communities.
2. How do you hope your work as a Fellow will influence the future—for yourself, an organization, a community, or a field?
Through my teaching, I hope the journalism and science students gain practical tools and critical thinking skills to help them tell scientifically rigorous stories, in an engaging way whilst also bringing in diverse community perspectives. I additionally hope researchers will gain some insight into how involving civic society in research work can enhance their scientific practice and help create a more equitable relationship.
I also wish to raise the profile of civic science itself, so that people outside of academia and science have growing awareness about this important movement.
Ultimately, I hope to make a modest contribution to people feeling that science doesn't just happen over there but that it is something that is meaningful and feels part of their everyday world. I hope to inspire people with the awe of science, but I also want to empower people to leverage science to improve their well-being and shape their own futures.
3. What's one insight you'd share from your work as a Civic Science Fellow?
Whilst the decline of local journalism is negatively impacting civic health, it also offers us an opportunity to imagine and reinvent how the local civic information ecology might be better orientated to fulfill the needs of the communities.
I think new forms of journalistic collaborations or coalitions between journalists and civic groups could help fill the civic information gap left by the resource poverty of many local newsrooms. For example, would there be value in giving media training to people involved in citizen science projects and partnering them up with local journalists?
There's been a lot of great research in the field of science communication. We now need to think about practical ways that this can cascade down into practice. I think this is a really exciting time to think about the different ways for journalists to try and co-create more stories with both local community partners and scientists.