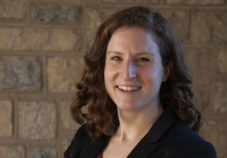 Lia Kelinsky-Jones
Title
Agora Institute Civic Science Fellow
Project Focus: Lia is investigating how R-1 universities committed to public engagement are collaborating with and meeting the climate policy needs of local sustainability professionals. This effort will yield an inventory of unmet desires among local sustainability professionals across the country and relational findings on collaborations between universities and local governments.
About Lia
Lia Kelinsky-Jones is an interdisciplinary social scientist active in building university-community policy projects and partnerships. Her work focuses on developing more sustainable, just, and climate-resilient communities and food systems. She tends to focus this inquiry within two domains: university engagement and policy. Her dissertation examined the impacts of federal policy on land grant university international development efforts with regard to participation and a sustainable agriculture approach called agroecology. Previously, she led a community-based project to identify policy levers to develop a more climate-resilient food system in the Appalachian region of Virginia. She has over a decade of experience in project and program management at Virginia Tech, where she worked to extend the expertise of the university to the benefit of communities both locally and globally. Personally, she grew up in five different countries and speaks both Spanish and French. She is an avid gardener of both food and flowers and enjoys road and mountain biking in her spare time.
1. What was the focus of your work as a Civic Science Fellow? What did you do?
My project began with a mapping of university-based policy engagement. I quickly narrowed the population to R-1 universities that are part of The Research University Engagement Network (TRUCEN). From there, I systematically inventoried all initiatives at each university related to university-based policy engagement. Subsequently, my host and I realized we needed to dive deeper into impact and how these initiatives were meeting local needs. We focused on climate change as all localities experience climate risks, but challenges and resources vary. From there, I identified the sustainability professionals adjacent to TRUCEN universities and conducted elite interviews with 68 percent of that population. During each interview, I collected data on each locality's top three climate challenges, how research could be useful, and whether they were collaborating with their local TRUCEN university. I also compiled quantitative measures on each locality and school, which we will use to identify relational findings that may explain university-locality climate collaborations.
2. How do you hope your work as a Fellow will influence the future—for yourself, an organization, a community, or a field?
At the national level, I hope these findings will help increase and strengthen university-based policy engagement in their local communities around localities' most pressing needs. Later this year, I will be presenting these findings to TRUCEN universities and engaging in a generative dialogue about how these findings may influence their local collaborations and possibilities for future research. For the field, I hope this encourages scholars interested in policy engagement to investigate the demand for policy engagement and its impact on communities rather than studying the supply side (what activities researchers engage in and with whom). Personally, I hope to build on this work by investigating local government food policy actors and their climate needs in the future. Local governments are increasingly adding positions focused on community food systems, but we know little about climate action and needs among such actors.
3. What's one insight you'd share from your work as a Civic Science Fellow?
90 percent of sustainability professionals have climate change needs not being met by their local R-1 university.