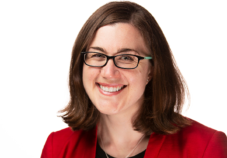 Elyse L. Aurbach
Title
APLU Civic Science Fellow
Project focus: In collaboration with the Association of Public and Land-grant Universities and the University of Michigan, Elyse will help to address how to modernize scholarship to provide visibility, reward, and advancement to faculty and staff engaging the public in scientific projects to serve societal needs.
About Elyse
Elyse L. Aurbach is a public engagement professional and researcher. She creates communities, programs, and products that maximize assets and address needs to support scholars in engaging with different publics. She specializes in translating research into useful tools for practice, building effective training and capacity-building programs, and developing frameworks that synthesize scholarship and practitioner knowledge to help public engagement systems evolve. As Public Engagement Lead with the University of Michigan's Center for Academic Innovation, Aurbach leads strategy and program development as part of a Presidential strategic area of focus for faculty public engagement. Prior to joining the Academic Innovation team, Aurbach pursued a double-life as a scientist studying the neurobiological underpinnings of major depression and leading a number of projects to improve science communication and public engagement, including developing and teaching communication courses in person and online and Co-Bossing with Nerd Nite Ann Arbor. She is also a co-founder and former director of RELATE, a science communication and public engagement organization. Aurbach was a NSF Graduate Research Fellow, a finalist for the AAAS Early Career Award for Public Engagement with Science, and an ARIS Fellow.
HTTPS://APLU.ORG/MODERNIZING-SCHOLARSHIP
1. What was the focus of your work as a Civic Science Fellow? What did you do?
I worked with the Association of Public and Land-grant Universities on a project about transforming institutions of higher education, in order to help them better support engaged- and equity-oriented scholars. Through a deep literature review, a series of institutional case studies, and convenings with experts in the field, my project will culminate in a framework for action described in a report, due out in November 2023.
2. How do you hope your work as a Fellow will influence the future—for yourself, an organization, a community, or a field?
Universities are institutions that tend to move with deep deliberation. I hope this project will not only catalyze deep reflection within institutions of higher education, but also equip change-makers with valuable tools to evaluate their institutional context, plan reforms, and build a coalition for action that can drive real change on individual campuses.
3. What's one insight you'd share from your work as a Civic Science Fellow?
The Civic Science community is rich in thought leaders and partners—I'm grateful for the opportunity to have connected with the Network through my Fellowship to pursue this work. The Fellowship gave me the opportunity to be supported in pursuing an effort that has extended my skills and knowledge in ways that I would not have otherwise, and I'm excited to bring these assets to bear during the course of my career!