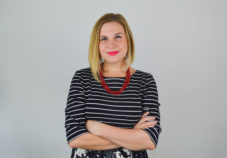 Laura Bartock
Title
ASTC Civic Science Fellow
Project focus: Laura will connect and support Association of Science and Technology Centers (ASTC) members in building capacity for community science programs, including developing a virtual training program, building a toolkit of resources, and establishing a community of practice for exchange and learning.
About Laura
Laura Bartock is an experienced facilitator, science communicator, and social scientist who is passionate about advancing the practice of community-centered science. Laura comes to the Association of Science and Technology Centers with more than five years of experience managing collaborative multi-party processes and providing strategic guidance for groups working to understand complex science and address shared challenges. Her past projects have focused on implementing collaborative adaptive management on the Missouri River, exploring best practices for deep seabed mining, and investigating policy pathways to respond to climate change. Laura holds a master's degree in Environmental Science (Environmental Communication and Participatory Processes) from the State University of New York College of Environmental Science and Forestry. Laura also serves as a Community Science Fellow for the American Geophysical Union's Thriving Earth Exchange. Laura is working with the Kiamichi River Legacy Alliance, a community group based in southeastern Oklahoma, to design and execute a scientific project to advance their goal of protecting the waters of the Kiamichi River Basin. Laura also supports the community group in its efforts to engage with public audiences, media, and decision-makers.
OUR NEWEST ONLINE RESOURCE, THE "GETTING STARTED IN COMMUNITY SCIENCE" DISCUSSION GUIDE, HELPS STAFF AT INFORMAL SCIENCE LEARNING INSTITUTIONS UNDERSTAND THE POTENTIAL ROLES THEIR SCIENCE CENTER OR MUSEUM CAN PLAY IN COMMUNITY SCIENCE AND PROVIDES GUIDANCE FOR INITIATING CONVERSATIONS WITH POTENTIAL COMMUNITY-BASED PARTNERS, WITH A FOCUS ON CO-CREATION AND EQUITABLE COLLABORATION:
HTTPS://COMMUNITYSCIENCE.ASTC.ORG/GETTING-STARTED-IN-COMMUNITY-SCIENCE/
1. What was the focus of your work as a Civic Science Fellow? What did you do?
The Association of Science and Technology Centers is a membership association of science centers, museums, and other informal science learning institutions, and my role as Community Science Fellow is to support our members in building their capacity to serve as partners in community science. I facilitate peer-to-peer learning opportunities, design strategic planning resources, and provide training through fellowship and other opportunities, all intended to help ground museum professionals in the principles of equity and collaboration.
2. How do you hope your work as a Fellow will influence the future—for yourself, an organization, a community, or a field?
As trusted institutions and inclusive spaces, science centers are uniquely positioned to mobilize and support community science to meet the needs and desires of local communities while advancing their missions. I hope that the support I've provided and the resources I've curated will catalyze future community science efforts that can in turn become additional learning opportunities.
3. What's one insight you'd share from your work as a Civic Science Fellow?
It's important to have an intentional and clear goal to guide your work—a north star—but it is equally important to be flexible and adaptable in your approaches toward your goal. Inevitably you will encounter challenges to your assumptions and working theories, and it's important to stay open to learning in those moments when new information and experiences become available to you.