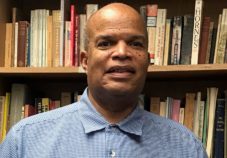 Mark Milton Chambers
Title
EDGI Civic Science Fellow
Project focus: Mark, in collaboration with EDGI Civic Science Fellow Kelsey Breseman, will focus on environmental data governance and justice, exploring models for tailoring federal environmental data to the needs of communities.
About Mark
Mark Chambers is a historian who teaches and writes about the intersections between American society, environments and technologies at Stony Brook University, where he earned a Ph.D. in U.S. environmental history. Mark teaches diverse subjects and also reaches non-academic adult audiences through his work with local museums and public institutions that are distinctively situated to transform communities. His forthcoming book, based on his dissertation, "Gray Gold: Lead Mining and Its Impact on the Natural and Cultural Environment, 1720 to 1840" examines cross-cultural exchanges of knowledge and technology between Native American, European, African, and African American societies in North America since the early eighteenth century, and exemplifies how his training combines scientific and technological knowledge with narrative and storytelling. Recently, Mark has been collaborating on environmental justice issues with the Environmental Data and Governance Initiative (EDGI) team of researchers and academics coding interview transcripts of current and recent EPA staff and EJ activists.

1. What was the focus of your work as a Civic Science Fellow? What did you do?
To date, current EPA processes fail to effectively incorporate an important form of public participation in decision-making, and they significantly affect communities bearing the greatest environmental risks. During the past two decades, the environmental justice movement has consistently offered public participation ideas and methods to the Environmental Protection Agency (EPA), such as community-based participatory action research (CBPAR) to advance the reduction of health disparities (Wilson et al. 2020). Despite decades of continual challenges and increasing attention to environmental justice concerns, these agencies have failed to achieve equity in environmental protection. This failure stems in part from the limitations imposed by the lack of traditional public participation, and the inability of the decision-making process to accommodate the inclusive movement methods.
2. How do you hope your work as a Fellow will influence the future—for yourself, an organization, a community, or a field?
It is my hope that the White Paper I am currently working on will advocate for an environmental justice style community-based participatory action research model to approach and recast the role of community participation in environmental decision-making at the Environmental Protection Agency that moves beyond current decision-making paradigms to improve health.
3. What's one insight you'd share from your work as a Civic Science Fellow?
As a Civic Science Fellow, I have come to see the importance of working across disciplines. That requires going beyond the academy to communities to understand how they define harms, variables, design instruments, and collect data (qualitative and quantitative) to reflect the ecological reality of their communities and their personal experiences. Just as in recent years a number of epidemiologists called for a paradigm shift, arguing that modern epidemiology's approach of applying a risk-factor paradigm overemphasizes the individual level of risk to the exclusion of other organizational levels of risk, I hope my work now and, in the future, will communicate the importance of embracing these shifts.