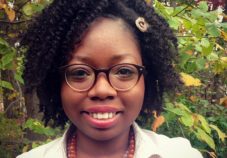 Martina G. Efeyini
Title
Science News Civic Science Fellow
Project focus: Martina will work to help understand how to better engage with young people through science journalism, particularly those historically underrepresented in science, including people of color and those in low-income urban and rural areas.
About Martina
Martina G. Efeyini is a toxicologist, science communicator, and STEM education advocate. She is passionate about intersecting STEM, communication, and education to make science accessible for the next generation of scientists. She earned her master's degree in toxicology from St. John's University and her bachelor's degree in toxicology from the Pennsylvania State University. Previously, Martina worked for the UMB CURE Scholars Program. There, she was a College and Career Readiness Coordinator, STEM Expo Manager, and Program Assistant. As a science writer, Martina occasionally writes for the American Society for Biochemistry and Molecular Biology as an alternative career columnist and has written for various professional scientific societies including the Scientista Foundation, the National Society of Black Engineers, the Society for Women Engineers, and Mademoiselle Scientist, her STEM digital platform.
1. What was the focus of your work as a Civic Science Fellow? What did you do?
As a Science News Civic Science Fellow, I use science journalism to engage younger audiences in science. I define younger audiences as Gen Z (specifically teens ages 11–17). This work is important to me, because my goal is to support the next generation of scientists and to make science accessible. To do this, I developed a Science News Toolkit and Guide so newsrooms and interested people can engage younger audiences. Also, a big part of my project, the heart of my project involved having several focus groups with teens. I wanted to have these groups so I could get honest feedback from the teens of today. As teens, they are the experts on teens. It is my goal to use that information to develop a news media product that teens will like and make science accessible as well as engaging. The next step of the project is developing the news media product, beta testing, and doing a report (video) on TikTok, social media, and a written report.
2. How do you hope your work as a Fellow will influence the future—for yourself, an organization, a community, or a field?
I hope that my work as a Science News Civic Science Fellow inspires people to use civic science in their day-to-day work so they can engage younger audiences. I want them to be inspired to co-create and co-design with others. In addition, I hope to expand my work as a science communicator and STEM education advocate, and civic science for my digital platform TheNextScientist.com. I hope to develop more media products and do more videos so that younger audiences can engage more in science. I plan to continue doing work that supports my values, interests, and skills.
3. What's one insight you'd share from your work as a Civic Science Fellow?
One insight I'd like to share is the importance of being creative. I am naturally creative, and I want to inject more of my creativity into my work. Whether I'm making a TikTok video about science, my journey, or communication science, I want to do it in a creative way.
Video (click for link):