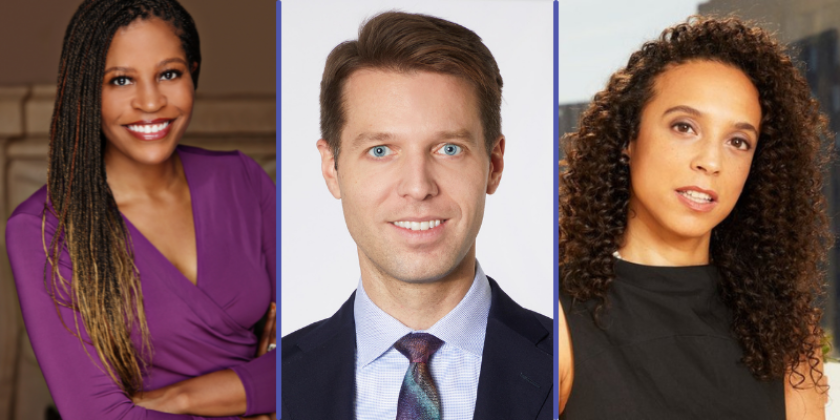 Civic Science Sparks With … The Aspen Institute and Coda Societies
February 24, 2022
What do an interdisciplinary behavioral scientist turned Civic Science Fellow, a developmental biologist/ physicist/historian turned science and democracy advocate, and a concert pianist turned public administration and social innovation leader have in common? They represent the possibilities that emerge when people with diverse backgrounds and common goals come together.
As part of her Civic Science Fellows program fellowship—supported by the Rita Allen Foundation and Lyda Hill Philanthropies—Jylana L. Sheats is co-designing and co-managing the Our Future is Science initiative with close collaborators Aaron Mertz, Host Partner and Director of the Science & Society Program at the Aspen Institute, and Garance Choko, Founder and CEO of Coda Societies. The goal of Our Future Is Science is to spark passion, confidence, and curiosity about science for high-school-aged Black, Indigenous, and BIPOC communities. Connecting science and social justice, the project brings together young people to explore how "science is everywhere" in their lives and the issues they care about, and how they can use science to build the worlds they want to see. Together, Jylana, Aaron, and Garance have already launched a Mentors Program, a Scholars Program, and a communication campaign and toolkit in the Our Future is Science initiative, and we can't wait to see what the future brings next for their work.
Rita Allen Foundation President and CEO Elizabeth Christopherson reached out to Jylana, Aaron, and Garance to learn more from their motivations and advice building collaborative civic science work.
Elizabeth Christopherson, President and CEO, Rita Allen Foundation: How would you describe yourself to the network?
Jylana L. Sheats: Great question. I am an applied behavior scientist with deep expertise in health behavior change and intervention design. Over the last two decades I've leveraged my education and experience to work with individuals and communities to identify and solve problems and address the range of factors (form a social-ecological perspective) influencing health and wellbeing. In recent years I've applied my expertise in new ways— moving beyond solely focusing on health behaviors (e.g., voting behavior, racial drivers of the criminal justice system, antiracism, social justice, diversity in STEAM (Science Technology Engineer, Arts and Math). Because I have a penchant for drawing connections, I know that everything I do eventually leads back to health and wellbeing. So, it's exciting to be in a position to lead and work collaboratively to create solutions for individuals, communities and systems. I've used best practices and lessons learned from across sectors and personal experiences to design a career that enables me to work in spaces that I am passionate about; and simultaneously share insights with young people and scholars through teaching and mentorship.
Aaron Mertz: I'm a biophysicist by training and, three years ago, made the leap from academia to the nonprofit world when I founded the Aspen Institute Science & Society Program, with the mission to democratize science as a guiding force for public good.
Garance Choko: I am the founder and CEO of Coda Societies, a firm that helps countries and regions rethink their infrastructure, with a goal of equity.
EC: What inspires you to do the work you do?
Jylana: I am inspired by my mother and father. Growing up I saw them in STEAM careers, yet constantly engaged in the community and in service efforts. This was, and is, our way of life— and where my professional and personal worlds overlap. These early experiences have kept me grounded and manifests in how I engage, and work with, diverse groups. I also know that I am blessed to have had early-exposure to STEAM education and careers and then attended Spelman College, which further increased my overall confidence. So when I have to constantly counteract limitations and confidence-crushing messages that those in "power" put on Black and Brown students, it lets me know that I am in the spaces and positions I'm in for a reason. In times where I may experience discomfort, I remind myself that: 1) I am growing as a person; 2) true leadership means getting out of your comfort zone; and 3) there's a rainbow after every storm.
Aaron: I would love for scientific thinking to be an approach everyone can take to understand the world and to make decisions that affect our daily lives. Unfortunately, science is seen by many to be partisan, politicized, and elitist. I fell in love with science—originally physics—because it is an elegant and nonpartisan framework for understanding the universe. I hope for others to view the potential of science in that way, while recognizing and reconfiguring the political and social structures that have made science and its benefits inaccessible to so many people in the world.
Garance: There is no greater purpose than working toward shaping an equitable society. I'm inspired by my early understanding that systems were man-made and malleable. If designed adequately, they could yield positive outcomes for the many. It is this design process, along with its creativity and its complexity, that keeps me curious and inspired.
EC: What's a great example you've seen (or hope to see) of civic science in practice?
Aaron: One of the challenges I'd like to see new civic science initiatives help solve is how to convey to the general public the importance of basic research, which can be a hard sell to a voter or taxpayer. We often pitch the value of science as essential for health, technology, and security, but so many of those benefits are rooted in basic research whose initial discoveries were not directed at any particular application. What's the right way to convey that importance?
Garance: Epigenetics is a field that offers insights into how health, psychology, sensibilities, and traumas are passed down from generation to generation. It's also a great tool to help deported populations to reclaim their origin stories. It's an application of science that plays an essential role in shaping our civic identities. I'd like to see more initiatives that use this field toward these goals.
EC: What are you most excited about your Civic Science Fellowship/project right now?
Jylana: I'm probably being too honest here, but the Civic Science Fellows (CSF) program is an experience of a lifetime. While I was not familiar with the CSF prior to applying— reading the program information and description of the "Our Future is Science" (OFIS) initiative, gave me chills. This was the right opportunity for me, as it spoke to so many of my interests and passions– even those that I have not been able to fully tap into or explore beyond the surface. I am fortunate that I not only work with OFIS, but am co-designing and implementing other Science & Society Program initiatives with Aaron. So, on a personal level, my future excites me because of all the great opportunities and people I am surrounded with on this CSF "journey."
Being able to co-design a program and curriculum centered on science and social justice with a supportive team; and hearing from mentees and mentors about how much they value OFIS keeps me both excited and motivated. We have observed mentees are teaching our graduate students mentors about social justice— and together, finding connections with science (and STEAM more broadly). Seeing how they take in and synthesize the new information; evolve in their thinking and perspectives; and become even more motivated to enact change in their own communities, is exciting as well. Our ultimate goal is to ignite a movement where people of all ages understand how STEAM disciplines could be used in a way to solve some of the world's most pressing social justice issues. I am confident that this will come to fruition.
EC: What's one piece of advice you'd offer to build collaborative civic science work?
Jylana: When an individual or organization is tasked with stretching their thinking around race/ethnicity, diversity, equity and inclusion, consider the realness of positionality, power and privilege, be vulnerable, lean into discomfort— and then JUMP right back. Taking stock of this and whether the organizational culture is able to support and nurture collaborative efforts is critical before even initiating collaborative civic science.
Aaron: Considering non-traditional and unexpected partners and collaborators to bring together vastly different networks, perspectives and approaches to civic science. This is an evolving space where one has to be open to new ways of thinking and doing. I'm so grateful for my collaboration with Garance and Coda Societies to build "Our Future Is Science" for exactly this reason!
Garance: Encouraging cross-sectorial approaches and transcending jargons are essential to promoting civic science work. I am grateful for the fact that Aaron and I were able to build a shared language that combines science, social justice, and project design. Leveraging our areas of expertise and interest, will facilitate greater reach, amplify our networks and impacts, and ultimately impact those most in need.