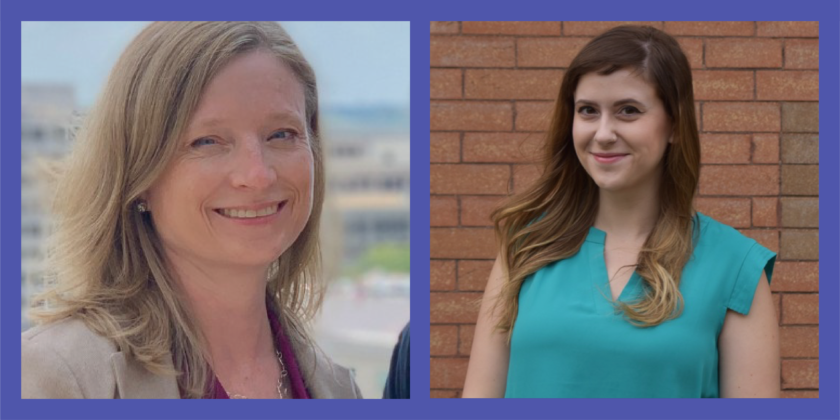 Civic Science Sparks With…National Academies
March 9, 2023
Greetings Civic Science Community, 
What an exciting time for the civic science community—as we see growth and change coming from contributions from many, and from connecting with one another across diverse expertise.
This is an evolution made possible by partnership. With the National Academies Standing Committee on Advancing Science Communication, last week we were able to bring many Civic Science Fellows and partners together in person for the first time since 2020—and the energy in the room was palpable. Standing Committee members reflected on how connections with Civic Science Fellows and others have prompted a shift in focus, from connecting research and practice—to connecting research, practice, and community—and spreading this orientation across the Academies.
Fellows reflected on how, even in virtual spaces, we've been able to build relationships that keep pulling us together, learning and growing together through practicing more inclusive approaches to problem-solving, through action.
In the words of Raj Pandya, a Civic Science Fellows partner and a new member of the Standing Committee—"community is a verb."
In this month's "Civic Science Sparks With…," National Academies Civic Science Fellow Angela Fenoglio and host partner Holly Rhodes reflect on civic science aspirations, boundary spanning, and what it looks like to foster authentic community engagement in scientific research.  
With appreciation,
Elizabeth

Elizabeth Christopherson
President and Chief Executive Officer, Rita Allen Foundation
Elizabeth Christopherson: How would you introduce yourself to the civic science network?   
Holly Rhodes: I am the study director of the Standing Committee on Advancing Science Communication at the National Academies of Sciences, Engineering, and Medicine. It's my job to coordinate an amazing 17-member group of scholars, communicators, and leaders from many different scientific disciplines and areas of practice. Together, we work to better connect science communication research and practice, provide leadership on important challenges in the field, and elevate the vital work of people who communicate and engage others around science. I would increasingly describe my role as a boundary spanner. 
Angela Fenoglio: There's a phrase I was introduced to at the start of this fellowship that has really spoken to me (and, I've found, with other fellows): boundary spanner. A neuroscientist by training and a communicator by nature, I've been working to embrace my role as someone thriving in the in-between spaces. I'm a relationship-builder, an incorrigible question-asker, a baby whisperer, and an eternal student—there is always something new and exciting to learn, and someone new to learn it from. As a Civic Science Fellow at the National Academies of Sciences, Engineering, and Medicine, I have worked with Holly and the Standing Committee on Advancing Science Communication to lay the groundwork for an institutional mechanism to foster effective and authentic community engagement in science research.  
Elizabeth: What is the North Star that drives your civic science work and keeps you going in challenging moments?   
Angela: My work in civic science, developmental neuroscience, clinical research, and early childhood policy has all been in service of one goal: leveraging cutting-edge science to improve the lives of children and families facing structural inequality and adversity. 
Holly: So much of our civic life these days touches science, and the work of advancing science communication and engagement feels important to bridging divisions and building an inclusive and just society.  
Elizabeth: What has been a highlight of your participation in the Civic Science Fellows program? 
Angela: It's been both a relief and an inspiration to find my people. In the academic research sphere, it sometimes felt isolating to be interested simultaneously in questions about how the mind and the world work, the implications of those answers for the everyday lives of children, and the role of scientists in making their findings accessible to those who work to put them to use. As soon as I found the job description for the National Academies fellowship, I felt less alone! I knew I couldn't be the only person interested in working across these levels of analysis, and I've treasured the opportunity to get to know others who are building these bridges.
Elizabeth: What is something you learned from your partnerships together in the Civic Science Fellows program—either from each other or from your sharing work with Fellows and others?  
Angela: As someone who has always loved to talk—as many of my frustrated elementary school teachers could readily attest—it's been a big shift in mindset learning to listen. It's a vital skill in community engagement work, and in addition to formal guidance in the form of lab content, seeing the way my fellow Fellows listen with purpose and intensity has truly been inspiring. 
Holly: The Civic Science Fellows network, including my work with Angela, has shown me just how many people are drawn to the enterprise of connecting others with science.
Elizabeth: As you look toward the future, what is a civic science aspiration you might share?  
Angela: In the long-term, I'd like to combine my burgeoning civic science toolkit with my training in child development. Many educators, medical professionals, therapists, caregivers, and others implicitly do the work of boundary spanning every day, but there remain clear disconnects between research, policy, and practice. I can't fill those gaps alone, but with the knowledge and network I've been granted through this fellowship, I finally feel that I know how to move forward.
Holly: In the future, I look forward to seeing the fruit of this growing network of people who are committed to creating structures for listening and bridging divides.