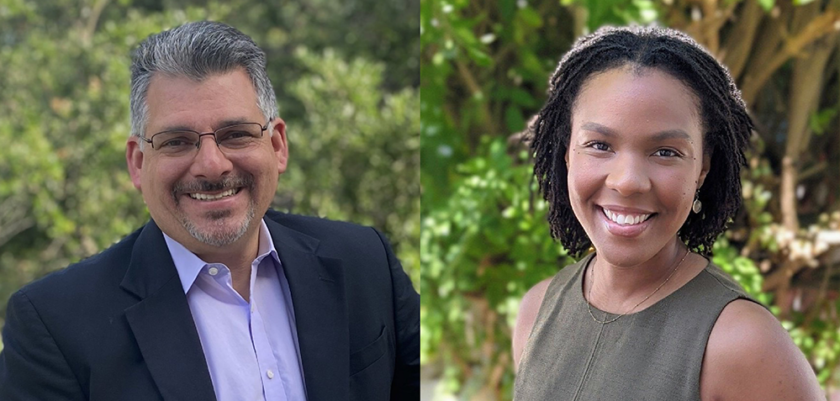 Civic Science Sparks With…ScienceCounts
January 31, 2023
Greetings Civic Science Community,
How do Americans want to engage with science? What are the barriers? In 2021, ScienceCounts and the Association of Science and Technology Centers (ASTC) initiated a survey to ask these questions that hadn't before been asked on a national scale.
This work inspired the Science and Society Funder Collaborative (the Rita Allen, Kavli, Gordon and Betty Moore, and David and Lucile Packard Foundations and the Burroughs Wellcome Fund) to come together to support a 2021–23 Civic Science Fellow to work with ScienceCounts, Michelle Race. Michelle was the second Fellow we supported. In the inaugural cohort, Science in Society Civic Science Fellow Sam Dyson worked to build understanding of how philanthropy can fuel civic science culture change, so that, as he framed it, all people can experience the power, benefits, and wonder of science.
Michelle has built on work from Sam, ScienceCounts, and ASTC, developing further analysis and taking innovative steps to learn more. In December, she launched Science Engaged LA to follow people's real-life experiences with different kinds of engagement opportunities and pinpoint specific changes that could strengthen relationships between science and Black and Latino communities.
Fellows like Michelle and Sam help to show that investing in individual experiences can make a universe of difference, not only through sharing findings and connecting them to broader systems through networks like this, but because those individuals go on to spread change wherever they go, in ever-expanding ripples.
For this month's "Civic Science Sparks With…," I reached out to Michelle and Chris Volpe, executive director and a founding board member of ScienceCounts, to invite them to share reflections and aspirations.
In community,
Elizabeth

Elizabeth Christopherson
President and Chief Executive Officer, Rita Allen Foundation
Elizabeth Christopherson: How would you introduce yourself and describe your work with the Civic Science Fellows Program to the growing civic science network?
Michelle Race: I am a science communicator and educator with a background in marine science and community-based conservation. Currently, I'm a Civic Science Fellow for Advancing Diversity, Equity, and Inclusion in public science at ScienceCounts. My fellowship centers around understanding how historically underrepresented groups want to participate in science in order to make science engagement more welcoming and accessible.
Chris Volpe: I'm a science advocate working to expand science's beneficial role in American society. As the executive director of ScienceCounts, a nonprofit working to increase public support for science, I'm thrilled to be involved with the Civic Science Fellows Program. We currently host Michelle Race, the Civic Science Fellow for Advancing Diversity, Equity, and Inclusion in Public Engagement.

Elizabeth: What key learnings will you carryforward from your Civic Science Fellows program partnership—from each other, from communities you have engaged with, or from your sharing work with Fellows and the network?
Michelle: The work that ScienceCounts does is a great example of civic science in practice. The insight they gather about Americans' perception of science can be used to build a bridge between science and the public. From my partnership with ScienceCounts, and working closely with Chris, I've learned to never lose sight of the real-world applications of what we discover through research. Civic science should be grounded in feedback from the communities we want to reach. I plan to carry what I've learned from my host partner into my work moving forward.
Chris: The Civic Science Initiative embodies the maxim that making lasting change is a collaborative enterprise. Taking on complex social issues requires a wide range of expertise and experience. Collaborating with Michelle has been a rewarding reminder that the perseverance of dedicated leaders is another necessary ingredient to bring about positive transformations.

Elizabeth: What successes have you've already seen or accomplished during your time in the Civic Science Fellows program?
Michelle: I have been fortunate to have many successes as a Civic Science Fellow. In the beginning, I became a core member of the analysis team for the national survey conducted by ScienceCounts and ASTC: Americans' Motivations for and Barriers to Engaging with Science and I was able to contribute to determining the key findings from this very rich data set. I've had the opportunity to present these findings to peers and leaders in the field, including at the 2023 AAAS conference. Following this, I designed and launched a project that builds on the national survey, called Science Engaged LA, to continue learning how to improve science related activities for Black and Latino communities. The fellowship has supported me in going after opportunities that I would not have otherwise been able to pursue.
Elizabeth: What is one piece of advice you'd offer to others beginning new collaborations together to build momentum toward a culture of civic science?
Chris: The first step in building a culture of civic science is to emphasize the importance of listening. Civic science is about service. Listening to and understanding the needs of a community that one aspires to serve is an obvious, but often overlooked, first step. 
Elizabeth: What are some of the most exciting civic science opportunities, changes, or innovations you see on the horizon that have the potential to transform engagement with marginalized communities?
Michelle: I am most excited by the positive reception from academics and practitioners when presented with our findings about how underrepresented communities want to participate in science and the barriers they face when trying to engage. Not only was there great interest in what we learned from this initial survey, there was support from this network of stakeholders for my follow-up work to continue to learn about how marginalized groups experience science-related activities. To me, this signifies an opportunity to make improvements within institutions that will lead to more impactful solutions to addressing barriers to science.
Chris: ScienceCounts' recent study How Americans Want to Participate in Science, conducted with the Association of Science and Technology Centers, yielded two encouraging findings. The first is that curiosity in science permeates all segments of society equally regardless of race, ethnicity, gender, education, and economic status—in other words, there is no 'curiosity deficit' that needs to be overcome. The second is that many members of marginalized communities are ready to take an active role in science when it's made clear how science connects to their interests and values.
Elizabeth: As you look toward the future, what is a Civic Science aspiration you might share? Michelle, what's a memorable/especially valued experience with the program that has influenced your future?
Michelle: In many ways this fellowship has helped me find clarity in my professional trajectory. At the start of the fellowship we were encouraged to make progress in our projects by taking "the next elegant step," which is to consider what is known and unknown and then create a strategic step forward in the direction of your goal. I slowly realized that this mantra could be applied to my professional goals as well. Throughout the fellowship I was introduced to new ideas about civic science, I met and overcame challenges in my work with the help of my host partner, and I learned about diverse pathways to a variety of careers. These experiences began to define the kind of work I wanted to do and, maybe more significantly, expanded my understanding of what I was capable of doing. The most influential experience I had was being able to take part in a workshop with career coach, Naledi Saul. Her guidance, when applied to everything I had learned, ultimately led to me finding a job that perfectly aligned with my career goals. With the help of this fellowship, I am taking the next elegant step forward towards an exciting new career.
Chris: I hope that the Civic Science Initiative catalyzes a renewed social contract between the scientific community and all segments of the public that we serve. I hope more scientists will move freely across the science-society boundary to share their expertise with their communities while also looking for opportunities to address a community need. I hope that scientific organizations continue to provide the guidance and tools that scientists need to do that more effectively.