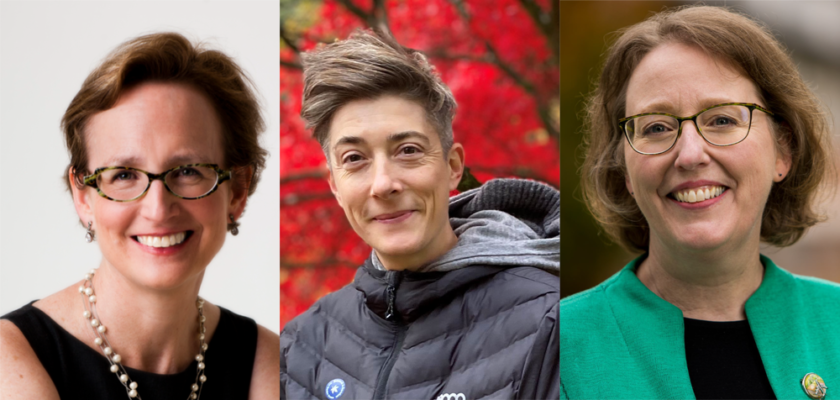 Civic Science Sparks With…US-UK Fulbright Commission and University of Oregon Center for Science Communication Research
September 28, 2023
Greetings Civic Science Community,
Several recent reports have punctuated our network discussions as we continue to think collaboratively about what science needs from democracy, and what democracy needs from science.
We continue to receive new evidence on declines in trust of institutions—with distrust extending to research that comes from academic institutions. Converging with ongoing loss of access to local news, from many sources we are hearing the need for investments in a new landscape of civic information, with opportunities to reimagine how both science and journalism serve as public goods—essential elements in self-government and a better future. Emergent work generated across the civic science network is fostering intentional connections across information systems, with scientists, storytellers, and diverse communities showing what this new landscape can look like. 
In this month's Civic Science Sparks With… I am pleased to share perspectives from civic science leaders working at this exciting interface—host partners Maria Balinska of the US–UK Fulbright Commission and Ellen Peters of the Center for Science Communication Research at the University of Oregon, and UK–US Civic Science Storytelling Fellow Melanie Brown. Melanie describes an "aha" moment in her Fellowship, when a connection with a local community radio station director sparked a new collaborative radio project, El Sonido de la Ciencia, created with a colleague and University of Oregon students. 
Through their focus on engaging students in this learning and practice, Melanie and colleagues are planting seeds for the future—joining the Civic Science Fellows program and many in our network in preparing a new generation for careers and problems not yet known.
With appreciation,
Warmly,
Elizabeth
Elizabeth Christopherson
President and Chief Executive Officer, Rita Allen Foundation
Elizabeth Christopherson: How would you introduce yourself to the civic science network?
Ellen Peters: I'm a decision scientist and director of the Center for Science Communication Research at the University of Oregon. I hold joint appointments as a professor in the School of Journalism and Communication and the Psychology Department. I'm quite interested in how numbers and nerves (i.e., emotional responses) influence our decisions and how we can help people make better decisions. These topics are critical as the public, scientists, and policy makers attempt to communicate and collaborate on solutions concerning environmental and health hazards.
Melanie Brown: I am a multimedia journalist with a particular love for audio storytelling and photography. I specialise in crafting narratives that intersect the realms of science and society. My journey in journalism has been a wide-ranging one, spanning over a decade of working with the BBC in London based in factual and science programming. My primary focus during this time was to produce engaging radio science documentaries for the BBC World Service. I am coming to the end of a fantastic year as a Fulbright Scholar and Civic Science Storytelling Fellow based at the University of Oregon's Center for Science Communication Research.
Elizabeth: What drives your interest in this work?
Maria Balinska: There are many compelling reasons why the US–UK Fulbright Commission has been thrilled to partner with the Rita Allen Foundation and the University of Oregon on the Civic Science Storytelling Fellowship. To begin with, we are committed to continual learning and to furthering understanding of the big problems we face as a planet through collaboration across diverse communities and institutions. The aims of civic science, in other words, could not be more closely aligned to our own. Second, we believe in the power of international encounters to deepen understanding of key issues, which is why we see significant benefit in a UK science journalist like Melanie Brown collaborating with American journalists and teachers of journalists. Finally, embedding the learnings of civic science storytelling in a toolkit and/or university course speaks directly to our view of higher education as a positive force for change.
Ellen: We have to address so many complex issues as individuals and as a society—climate change, COVID-19 and future pandemics, artificial intelligence, illness and health, even just growing older. I believe that bringing together diverse viewpoints and expertise is our best chance to produce creative approaches that benefit us all.
Melanie: I've long been fascinated by the natural world and the transformative potential of technology in reshaping society. My career path initially led me into the realm of international development, working with NGOs based in Afghanistan and India. Here, I had the unique opportunity to witness firsthand the profound impact of science on people's livelihoods, for example in agricultural technology. It was my job to communicate stories about these projects and their impact to British audiences. These experiences illuminated to me the power of storytelling, and as I've journeyed through my professional life, my inquisitiveness about how science can address the most pressing challenges facing humanity has continued to flourish. I find myself naturally inclined towards problem-solving, and I enjoy the process of delving deep into complex issues and translating them into relatable narratives that resonate with people's everyday lives. My primary focus lies at the intersection of the environment, health, and technology, where I like to explore the interplay of these elements and unearth personal stories that bring these intersections into sharp focus.
Elizabeth: What is your "why"­—the North Star that drives your civic science work?
Ellen: People often seem to disengage when they don't understand, they feel ignored, and they don't think they matter. I'm interested in empowering people with knowledge about the world and insights about themselves so that we can improve lives and reduce disparities.
Melanie: I believe in the transformative power of stories. One memorable story I worked on highlighted an Indian man who developed low-cost sanitary pad making machines (against the consternation of all those around him). This BBC story went viral with millions of online hits, and after various follow ups in other media outlets, a Bollywood movie about this man's story emerged. This brought mainstream attention in India to the issue of menstrual health—a very taboo but important topic. I am passionate about telling stories like this, that create real-life impact, help people explore the convergence of science and their lives, and help society envision more equitable futures. As journalists, we have the power to highlight the experiences of those who are often overlooked in debates yet bear the brunt of the forces shaping societies, like with climate change. A central commitment of mine in storytelling is to amplify voices that have, historically, been excluded from scientific dialogues as I strive to bridge the gap between science and society through compelling narratives that hopefully inspire, educate, and empower. Ultimately, I strive to create authentic stories that promote critical thinking and foster tangible change as well as thinking about the media ecosystems that journalists work within to achieve these goals.
Elizabeth: With acceleration of scientific knowledge—from new tools to vaccines to AI—what's the role of journalism or journalists? How do we need to help prepare new journalists for these roles?
Ellen: Journalists need to break scientific news in a timely fashion, report accurately and meaningfully, and deliver insightful analysis and interpretations. As a result, they need training in the basics of scientific methodology and research and knowledge about the latest developments across scientific fields, including philosophy and psychology. They also need training in bringing together diverse viewpoints and expertise to explain the complex science issues we face.
Elizabeth: How has this fellowship developed? What special achievements, impacts, or insights would you emphasize?
Maria: When Melanie arrived in Oregon we featured her eyewitness reporting on the impact of forest fires on local communities in our US–UK Fulbright newsletter. As her fellowship has progressed, we've been excited to see the innovative ways Melanie has been sharing her journalistic expertise and experience of civic science with others—from developing, as she puts it, a "have you thought about this" toolkit on how to integrate civic science perspectives into teaching and reporting, to bringing together students and journalists at a local Latine radio station to generate science content for their listeners. Melanie is not only generating civic science content, she has also been building an infrastructure enabling others to do so.
Elizabeth: What's an insight or an "aha" from your time as a Fellow? How might this influence your future work?
Melanie: My fellowship has brought numerous "aha" moments, but a few key insights stand out.
Firstly, meeting fellow civic science focused "boundary spanners" and learning about their work has been eye-opening and inspiring and has provided me with a clearer understanding of where my work fits into the broader civic science ecosystem. This newfound perspective has revealed future opportunities for civic science journalism that I hadn't previously considered and which I will be pursuing in the future.
Secondly, the experience of developing and teaching a "civic science storytelling" course at the University of Oregon has been very interesting. Witnessing students' fresh interpretations of the potential for civic science storytelling, especially given their prior lack of exposure to this concept, has reaffirmed my belief in the importance of embedding this approach in both science and journalism education.
Lastly, a pivotal moment occurred during a workshop I co-hosted where a local community radio station director expressed the challenges they face finding experts to talk about science issues, such as health, with their Spanish-speaking audience. This inspired me to initiate a collaborative radio project, "El Sonido de la Ciencia," (The Sound of Science) with my colleague, Professor Catalina de Onis, and University of Oregon students. Over the summer, we have produced weekly short science-focused radio pieces in Spanish aimed at the local Latine/x community. Putting theoretical discussions into practice through this project has been deeply meaningful. I'm hopeful that this collaboration will extend beyond my return to the UK, and I'm grateful for the opportunity to explore this project as part of my fellowship.
Elizabeth: As you look toward the future, what is a Civic Science aspiration to share?
Ellen: My aspiration is that broad engagement with science will accelerate interest in and learning of science so that it's ultimately more useful for us all.
Maria: As a former journalist and a citizen, I want to see journalism that holds decision makers­—and that includes scientists—accountable. I want to see journalism that increases understanding of global challenges such as AI and climate change. That means more reporting on science that's relevant for a diversity of audiences. But it also means journalism that engages with the experiences and concerns of different communities whose lives are being or will be affected by science. At its core, civic science is for me about promoting dialogue and listening between scientists and society at large, especially those communities that are mistrustful—and sometimes for good reasons—of science. Journalism has an important and urgent role to play in developing that dialogue.