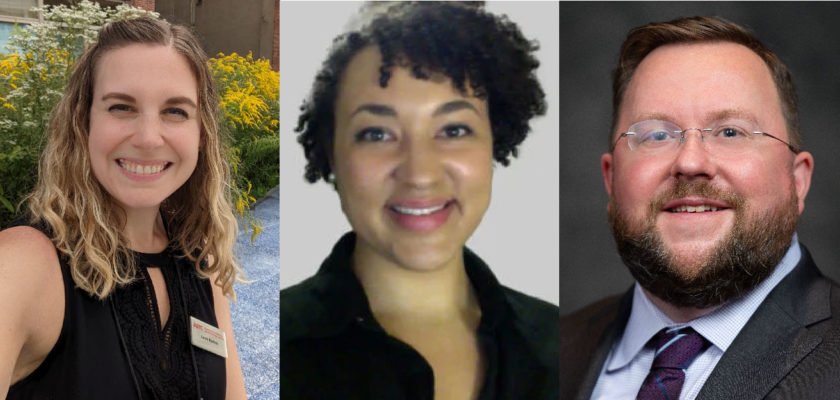 Civic Science Sparks With…ASTC
July 5, 2023
Greetings Civic Science Community,
As we move into the summer, it is a reminder of the powerful encounters with science that happen outside of school, for children and adults.
Recognizing that museums and other science centers can be among the most trusted sources of information about science, over the past years it has been exciting to be part of a community creating new horizons for what engagement and inclusion can look like in these spaces. This has included the work of Civic Science Fellows like Michelle Race Warren, conducting a real-world study of barriers to science engagement opportunities; Anand Varma, creating immersive experiences around the lifecycle of jellyfish to inspire new kinds of attention; Claire Weichselbaum, working with museums to design games to spark engagement around neuroethics; and three Fellows at the Association of Science and Technology Centers—Erica Kimmerling and Ivel Gontan in the inaugural cohort, and 2021–23 ASTC Civic Science Fellow Laura Bartock—whose work has included supporting science centers to become hubs for community science.
It is a pleasure to feature the conversation below with Laura and ASTC's Christofer Nelson and Melissa Ballard as the civic science funding community is inviting organizations to apply to become host partners in the next cohort of Civic Science Fellows, which will begin in 2024. From its earliest beginnings, host partners like ASTC have co-created and fueled this collaborative model for developing new capacity to catalyze culture change—so people across society can experience the wonder of science and shape its power and promise.
In Community,
Elizabeth
Elizabeth Christopherson
President and Chief Executive Officer, Rita Allen Foundation
Elizabeth Christopherson: How would you like to introduce yourself to the civic science network?
Christofer Nelson: As the Association of Science and Technology Centers' (ASTC) President and CEO, I help to support science centers, museums, and science engagement organizations of all types to share a vision of increasing understanding of and engagement with science and technology among all people.
Melissa Ballard: As the Director of Programs at ASTC, I lead our Impact & Inclusion team, which is focused on providing professional supports to the variety of people who work at science centers and museums. In particular, we are focused on helping museum staff consider ways to deepen and act on their commitments to equity and justice—including with local communities and how to apply these concepts to internal operations.
Laura Bartock: As ASTC's Community Science Fellow, my focus is on supporting our members—informal science learning institutions of all shapes and sizes—develop and strengthen their partnerships with local community-serving organizations. I am an experienced facilitator, science communicator, and social scientist who serves as a boundary spanner in collaborative processes.
Elizabeth: With many conversations about the importance of a North Star to guide, what is your "why"?
Chris: All people and communities should be able to learn about, participate in, contribute to, and benefit from science and technology.
Melissa: There are so many ways for people to engage with and shape science, technology, and innovation, and it's critical to support a robust ecosystem of organizations, leaders, and activists to continue their diverse approaches to this work. I hope to always be working in support of this community!
Laura: The central goal in all of my work is to elevate authentic community priorities in conversations around science and related decision-making. Each of our members shares a vision to engage their communities in the process of science and to make a positive impact in the places where they operate. My role is to provide support (both strategic and financial) to help ASTC's members think critically and strategically about how to collaborate on complex challenges in order to meet the needs of the people they seek to serve.
Elizabeth: Would you share a meaningful insight or "aha" from your time and work as a Fellow? How your work as a Fellow may inform future work?
Laura: As described by ASTC's framework, community science encompasses a diverse set of community-centered approaches, models, and tools that equip and support communities to use science and technology to answer their own questions and construct their own solutions. My work seeks to highlight the valuable perspectives of "non-professional scientists"—otherwise known as members of communities asking questions and looking for answers. Throughout my fellowship, a key insight that has been affirmed again and again is the importance of listening with humility. Humility is required for anyone who wants to create positive change that is inclusive of the widest possible range of lived experiences. Within the civic science space, we sometimes talk about breaking down disciplinary silos within academia so that interdisciplinary insights can be brought to bear on today's pressing issues. As I continue to work within this space, I seek to break down silos between academics and communities so that authentic community priorities can be reflected in research agendas.
Elizabeth: What have you valued as visionary members of this community? What opportunities do you see to amplify connections and work?
Chris: Laura's work exemplifies the work of the broader civic science community to break down silos and support humble and authentic engagement with community priorities. The civic science community continues to offer opportunities and connections that enable this work to thrive.
Melissa: I was energized to meet so many Civic Science Fellows—past and present—at the recent in-person convening. The ASTC team has already found ways to invite some of the Fellows into our Community Science Initiative—and we look forward to further discovering ways to collaborate with this incredible community in the future!
Elizabeth: Would you share a favorite author, blog or other media that especially resonates with or inspires you currently? Or another aspect of your journey to help fellow travelers?
Chris: I'm consistently inspired by the range of ways ASTC members and staff connect with the infinite rage of content at the intersection of science, technology, and human experience. Every year our staff assembles a reading list which contains great knowledge, inspiration, and food for thought. Here is the 2022 list!
Melissa: I always aim to read the latest from Southerly and The Bitter Southerner—both publications feature stories about environmental issues, health and wellbeing, and civic engagement which are likely of interest to many in the civic science community!
Laura: AllSides is a media company that shares bias and fact checks of news sources, as well as roundups that show how news stories are being framed from different political perspectives. I find their resources helpful for understanding the different contexts and perspectives that inform today's most urgent questions.
Elizabeth: As you look toward the future, what is an aspiration you might share with the civic science community?
Chris: ASTC supports the science centers, museums, and other science engagement organizations who belong to our association to build a more equitable and sustainable future where the full diversity of people and communities are equal participants in contributing to and benefiting from science and technology.
Melissa: I hope that we can all find ways to regularly connect, share updates, make connections, and amplify each other's work.
Laura: I aspire to bring more diverse perspectives and ways of knowing into our decision-making processes. Science and technology are powerful tools that can help improve lives, when applied in a way that is reflective of the needs and priorities of communities.