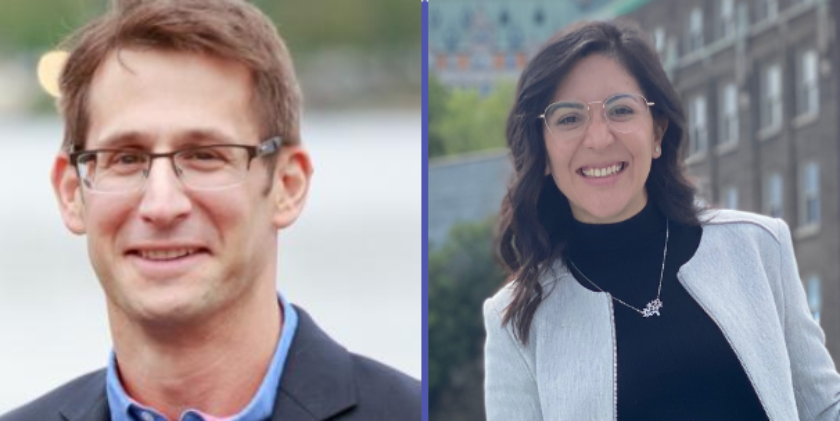 Civic Science Sparks With … Open Research Funders Group (ORFG)
May 25, 2022
Elizabeth Christopherson, President and CEO, Rita Allen Foundation: How would you describe yourself to the civic science network?
Greg Tananbaum: I am the Director of the Open Research Funders Group, a network of philanthropies committed to improving the pace of discovery, reducing information-sharing gaps, encouraging innovation, and promoting reproducibility. We believe that the open sharing of research outputs is better for philanthropy, better for science, and better for society. I have been working in open research for more than two decades, engaging with funders, universities, learned societies, publishers, and technology companies to build a more transparent, trustworthy research ecosystem.
Eunice Mercado-Lara: I am the Civic Science Fellow at the Open Research Funders Group. My fellowship focuses on developing a research funders community of practice to pilot specific interventions to make grantmaking practices more open and equitable. We aim to improve funding mechanisms to be more inclusive and expansive, and to remove barriers that can limit who engages in the research conversation. Over the last eight years, I have worked mainly in the public sector to help funding agencies and universities align incentives and policies to advance open research.
Elizabeth: What inspires you to do the work you do?
Eunice: I believe that open research is fundamental to accelerating scientific discovery and solving global challenges more efficiently. It is also an urgent practice for liberal democracies, as it helps to improve research integrity and brings science closer to the citizens it intends to serve. It is crucial to achieving this goal to establish impartial and objective academic structures and incentives, ensuring the participation of all interested parties in the production of knowledge, and research funders are a fundamental component in this endeavor.
Greg: I am inspired by the fierce urgency of this moment in human history. The planet is on fire. We are enduring a widespread and insidious pandemic. Inequity and marginalization are creating an increasingly fragmented society. This is an all-hands-on-deck moment. We need our best minds to engage with these issues, and with each other, if we are to claw our way out of this morass. Open research is part of the solution set.  
Elizabeth: What's a great example you've seen (or hope to see) of civic science in practice?
Eunice: I find Elyse Aurbach's work stimulating. She is the APLU Civic Science Fellow. She analyzes academia's incentives to modernize scholarship to provide visibility, reward, and advancement to faculty and staff, engaging the public in scientific projects to serve societal needs. I find it exciting to explore potential avenues for aligning research agendas and academic incentives enforced by research institutions to solve pressing societal problems.
Greg: There are many green shoots beginning to sprout, but I'll highlight one illustrative example – Shannon Dosemagen's work as the Open Environmental Data Project Civic Science Fellow. Shannon's project focused on making climate and environmental data open and interoperable. The idea that these data are a public good that should be used to not only improve public policy but also empower communities to have greater agency in the environmental justice conversation is exhilarating. It is also potentially replicable across a range of other public health issues.
Elizabeth: What are you most excited about in your work right now?
Greg: I am very excited about the increasing awareness among funders that there is a direct and meaningful link between openness and equity. Sharing research outputs—articles, data, code, protocols, etc— invites more people from more diverse backgrounds into the conversation. It is a means, rather than an end. Open research enables deeper engagement with communities to co-create and build agency in processes and outcomes.
Eunice: Interest in diversity, equity, and inclusion discussions is on the rise; however, I have found only a few spaces where all the interested parties sit at the same table to build the solution together. The Open & Equitable Model Funding Program creates such a space for the co-creation of practical solutions in the research funder spectrum.
Elizabeth: What's one piece of advice you'd offer to build collaborative civic science work?
Greg: Don't rush the community building process! If we want people to engage with us, we need to take the time to get to know them and to understand their perspectives.
Eunice: I completely agree with what Greg highlights, and I would just add that it is vital to go where people are. We need to use the communication channels people consume and build practical, dynamic, and concrete messages accordingly. The "build it, and they'll come" approach works better for a captive audience, and the general public is not.
"An open ecosystem for scientific research—where data, analytic artifacts, methods, materials, and publications are openly available—fosters a more vibrant, rigorous, reproducible, and inclusive scientific enterprise. Open science supports a culture of civic science, where science and evidence inform solutions to society's most pressing problems. Champions of open science and civic science—like Eunice, Greg, and the ORFG team—bring passion and creativity to the challenge of making science and science philanthropy more inclusive and effective."

Harvey Fineberg, President, Gordon and Betty Moore Foundation
ORFG Civic Science Fellow Eunice Mercado-Lara is supported by the Rita Allen Foundation, Burroughs Wellcome Fund, and the Gordon and Betty Moore Foundation.