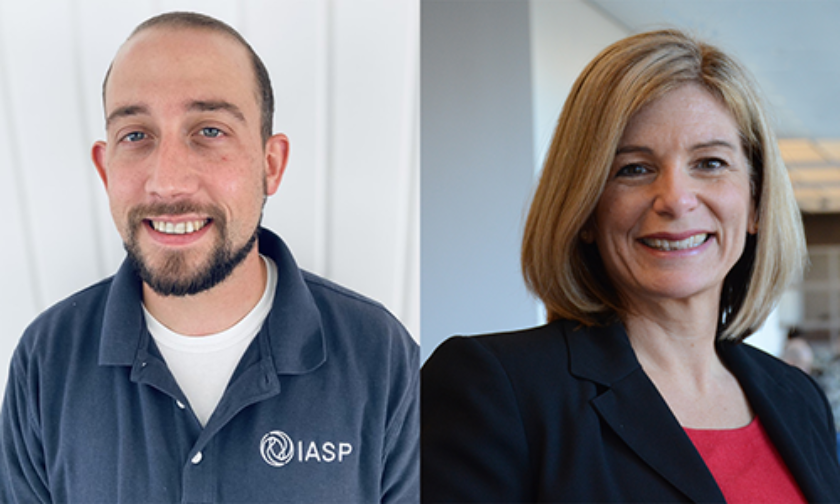 Civic Science Sparks With…Alan Alda Center for Communicating Science
July 25, 2022
Some 20 million Americans experience high-impact pain that significantly impairs their life or work, but it is often referred to as a silent epidemic. It is a problem that often remains hidden because of complex factors—including medical, scientific, and societal—with disproportionate burden on women, people of color, and people with lower educational attainment. It is a vivid example of a civic science issue. And like so much of civic science, communication is key to moving forward—to reveal the invisible aspects of unresolved pain, and to building the attention and connections needed across patient experience, research support, healthcare, and health systems to address persistent pain.
Communication researcher and Civic Science Fellow host partner Laura Lindenfeld and Civic Science Fellow Greg Carbonetti collaborated as part of the inaugural 2020-21 Fellows cohort to experiment with ways to improve communication around persistent pain and to explore opportunities to build the kinds of interdisciplinary and cross-sector connections that enable more effective solution-building across diverse experience and resources.
Laura Lindenfeld, Dean of the School of Communication & Journalism at Stony Brook University, is Executive Director of the Alan Alda Center for Communicating Science where she leads a faculty that helps people across journalism, science, and other civic institutions better communicate and build relationships between diverse stakeholders in science and civic life. Greg Carbonetti joined the inaugural Civic Science Fellows cohort fresh out of a PhD program in molecular and cellular biology, where he had studied pain relief on chemical and molecular levels. Combining their experiences, along with collaborators across biomedical research, social science, health care, and patient advocacy groups, they joined forces to explore: how can we better "see" chronic pain by connecting across diverse perspectives? In the short time of the Fellowship, they were able to develop new collaborations and relationships, advance research and practice on understanding pain, and open a new career path for Greg, who now serves as Senior Manager of the Pain Research Forum, with the International Association for the Study of Pain.
Rita Allen Foundation President and CEO Elizabeth Christopherson reached out to Laura and Greg to hear about their collaboration through the Civic Science Fellows program, what connections and perspectives they're building upon, and what advice they have for advancing civic science work grounded in evidence from research and the experiences of those most affected.
Elizabeth Christopherson, President and CEO, Rita Allen Foundation: How would you describe yourself to colleagues in the civic science network?
Laura Lindenfeld: I'm the executive director of the Alan Alda Center for Communicating Science at Stony Brook University, and the dean of the School of Communication and Journalism. The Alda Center is one of the leading science communication training and research organizations in the country; we've worked with more than 20,000 scientists and researchers around the world, all of whom have an interest in supporting science communication and civic science. We've all seen firsthand – particularly with the climate crisis and the ongoing pandemic – how important scientific research combined with civic engagement is, and I'm proud to be part of the strong community that's working to place the two efforts on equal footing.
Greg Carbonetti: I'm the Senior Manager of the Pain Research Forum (PRF), a production of the International Association for the Study of Pain. PRF is an interactive web community dedicated to accelerating the discovery of new treatments for pain. At PRF, researchers can gain new knowledge, improve information sharing between labs and the clinic, foster new collaborations, and raise interest in pain research among a global community of scientists and clinicians. In collaboration with patient partners, PRF's mission is to foster discussion and collaboration that will speed the acquisition of new knowledge and its translation into novel treatments for pain.
Elizabeth: The Civic Science Fellows program aims to build connections between science and civic life to seed innovative approaches to advance well-being. Your collaboration to understand patient, practitioner, and public perceptions of chronic pain and to explore avenues to reshape awareness was designed to spark new conversations. Would you share some of your aspirations for this project?
Laura: Chronic pain is a problem that truly hides in plain sight – millions of Americans are living with pain, and the reverberations of their suffering are felt across our economy. No public health problem has a simple solution. Unless and until we can understand the baseline perceptions of chronic pain among patients, caregivers, health professionals, and what we came to call the "pain-free public," we'll never be able to build a movement to help address this complex problem in society.
Greg: Chronic pain is a biopsychosocial problem, wherein its biological, psychological, and social aspects are inextricably linked. To uncover solutions to its biological components, we have to address its psychological and social components as well. To spark new conversations concerning these issues, we need to understand the baseline perceptions of chronic pain among people with lived experience, their caregivers, and the "pain-free public." Such knowledge can help us to mobilize a collective effort to increase chronic pain awareness, engagement, and advocacy.
Elizabeth: Laura, you've worked with thousands of scientists to help them better communicate the importance of this work. How did this help shape this work during Greg's Fellowship? What were some of the key insights?
Laura: The first step of effective communication is knowing your audience. When Greg began his fellowship, we quickly realized that we needed to know more about public perceptions of chronic pain – who is aware of it as an issue, what do patients and caretakers want and need. The last national survey about chronic pain was more than a decade old, so we wanted to start with accurate and recent data. With that nationally representative survey, we were able to begin to understand public perceptions, and even do some preliminary audience segmentation with the data we collected.
Elizabeth: Greg, as a Fellow and scientist, what are the top insights or recommendations you can share from your report that hold promise to improve dialogue, discovery, and patient outcomes?
Greg: The issue of chronic pain does not need a further "sympathy push" – it needs a push toward greater understanding that management or effective treatment can be elusive. We should reflect on the language we use when discussing pain, and create more urgency to help undermine existing assumptions or judgements about those in pain. Please read the full report at The Link, a science communication engagement platform produced by the Alan Alda Center for Communicating Science.

Elizabeth: What is one piece of advice you'd offer to communicate effectively to build new connections and momentum for a culture of civic science?
Laura: Alan always says, and I love this quote, that communication can only happen when you are willing to be changed by the other person. Communication is really all about listening to build understanding of what another person or audience is feeling and where they are coming from on any given issue. Building connections and momentum for civic science, or any kind of scientific engagement, is going to require a commitment to really listening and adapting communication strategies, and even messages, in the moment to meet the other person where they are.

Elizabeth: How has the Civic Science Fellows experience and network influenced or supported your work?
Greg: I'm so grateful for the Civic Science Fellows community. Aside from the tremendous personal growth this opportunity afforded me, it's directly responsible for my new role with the International Association for the Study of Pain. I'm thrilled that I'm able to continue working to help those affected by pain.