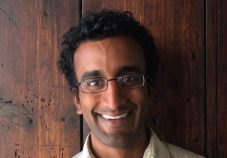 Anand Varma
Title
National Geographic Society Civic Science Fellow
Anand Varma grew up exploring the woods near his childhood home in Atlanta, Georgia. As a teenager, he picked up his dad's old camera on a whim and found that he could use it to feed his curiosity about the natural world—and to share his discoveries with others. 
Anand graduated with a degree in integrative biology from UC Berkeley and now uses photography to share the story behind the science on everything from honeybee health to hummingbird biomechanics. He works to reveal the invisible details around us with the goal of sparking a sense of wonder about our world.
Since receiving his first grant from the National Geographic Society in 2010, he has photographed numerous stories for National Geographic Magazine. In between assignments, he teaches workshops on visual storytelling to early career scientists around the world.